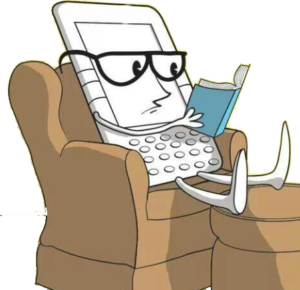 It's getting on for a quarter of a century since the New York Times Book Review announced "The End of Books". Computer screens had started to allure readers with a new nonlinear or nonsequential space that offered not only the words on a page, but the promise of information rich hyperlinked pathways into new knowledge. Today, although printed books haven't yet disappeared, the widespread use of e-books, and especially e-textbooks in higher education is overwhelming. It is undeniable that the adoption of the e-textbook brings with it all the advantages of interactivity, animations, simulations and instant online quizzes to test your progress. But it is also true that e-textbooks are popular because they are cheap, not necessarily for the individual student, but certainly for the distributors.
Back in the nineteen nineties, Sven Birkerts challenged the notion of e-books and even questioned the possibility of maintaining coherent thought while reading on a screen (I recommend the chapter entitled "Hypertext: Of Mouse and Man" in Birkerts' 1994 book The Gutenberg Elegies). Kolb presents a similar argument in "Socrates in the Labyrinth" (1994). Birkerts' reservations have particular resonance now in an increasingly digital learning environment. We need to be critical of the e-textbooks we prescribe to our students, and even more so if we venture into authoring them ourselves. Are we sufficiently aware of the requirements of on-screen reading? Does the design of the learning material we recommend provide a sufficiently logical framework to our users? Are we providing an abundance of information but very little clarity?
I hope that the readings provided below provoke a debate that will ultimately benefit our students. At the very least we should be in a position to scrutinise our burgeoning e-textbook collections with a more discerning eye.
Birkerts, S. 1994. The Gutenberg elegies: The fate of reading in an electronic age. Faber and Faber.
Birkerts, S. 2012. Why Read? School Library Journal, 58 (3): 26.
Kolb, D. 1994. Socrates in the Labyrinth. In: Landow, G. P. ed. Hyper/Text/Theory. Baltimore and London: Johns Hopkins University Press, 323-344.
Kolb, D. 2008. The revenge of the page. Paper presented at the Proceedings of the nineteenth ACM conference on Hypertext and hypermedia. Pittsburgh, PA, USA, 1379112: ACM, 89-96. Available: http://www.dkolb.org/fp002.kolb.pdf (Accessed 12 November 2015).
Rainie, L., et.al. 2012. The Rise of E-Reading. Pew Internet & American Life Project:  Available: http://libraries.pewinternet.org/2012/04/04/the-rise-of-e-reading/  (Accessed 15 August 2015).
Stoop, J., Kreutzer, P. and Kircz, J. 2013. Reading and learning from screens versus print: a study in changing habits: Part 1 – reading long information rich texts. New Library World, 114 (7/8): 284-300.