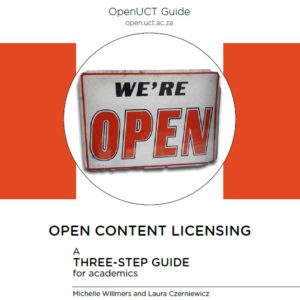 The University of Cape Town is open! Take a look at the guidelines for licensing your Open Educational Resources from UCT academics Michelle Willmers and Laura Czerniewicz.
The authors give valuable advice on how to go about making your material widely available online, while protecting your intellectual property.
From the guide:
"The guide is based on the framework of open content licensing, a legitimate, internationally recognised legal practice consistent with copyright law. Open content licensing has been designed to protect authors against unauthorised forms of content exploitation in the digital realm. It is beneficial to the global user community (or 'Commons') because it limits the bureaucracy associated with frequently sought permissions for reuse." (p. 2).
The Guide itself is available online. Note the Creative Commons licence.

This work is licensed under a Creative Commons Attribution-ShareAlike 4.0 International License.